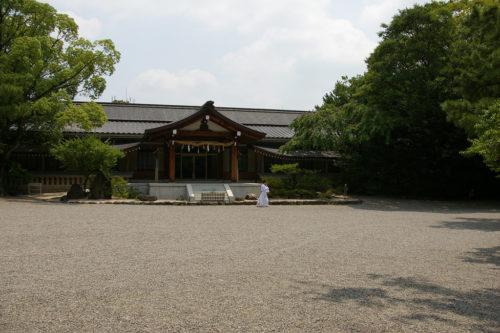 Atsuta Shrine (Atsuta Jingu) is one of Japan's top tourist attractions. We'll tell you about its 4 best spiritual sites to visit, how to get there, and even about the area's local cuisine. A must-read if you're traveling to Nagoya!
Conveniently located near Nagoya Station, Atsuta Shrine is known as a prestigious shinto shrine and has become a top attraction to foreign visitors in recent years.
However, not even the locals know much about the shrine's history and its spiritual spots. Your visit to Atsuta Shrine will be much more enjoyable if you have an idea of the past it has been through.
That's why we're here to tell you all about the history of Atsuta Shrine and its spiritual sites. We've even included tips on how to get there as well as the best local cuisine in the area. If this is your first visit, look no further because everything you want to know is here!
1. A History of Atsuta Shrine – Dating Back 1900 Years
Enshrined at Atsuta Shrine is the Kusanagi (Kusanagi-no-Tsurugi), an esteemed sword considered to be one of the Imperial Regalia of Japan, aka the Three Sacred Treasures of Japan.
The Imperial Regalia of Japan consists of a mirror, jewel, and sword that are said to have been bestowed by Amaterasu Omikami. They still have legendary status today as treasures that have been handed down the generations of the Imperial Family.
Atsuta Shrine, which enshrines the famed item, has a long history dating back more than 1900 years to the time of Emperor Keiko, Japan's twelfth emperor.
When Yamato Takeru no Mikoto was in Owari, he married Miyasume Hime Mikoto, the daughter of Otoyo no Mikoto. He then entrusted the sword to his wife.
When Yamato Takeru no Mikoto passed away, Miyasume Hime Mikoto chose Atsuta to enshrine the Kusanagi. This is said to be the origin of Atsuta Shrine.
In 1945, the shrine was twice damaged by war and most of the buildings were destroyed. Thanks to the restoration efforts of many, the shrine was rebuilt, a cultural center was established, and Atsuta Shrine was reborn as a prestigious shrine in the modern era.
It has kept countless treasures throughout its long history, and 170 of them have been designated as cultural properties by the prefecture of Aichi. These items are on display at the permanent treasure hall and it's worth a visit if such things are of interest to you.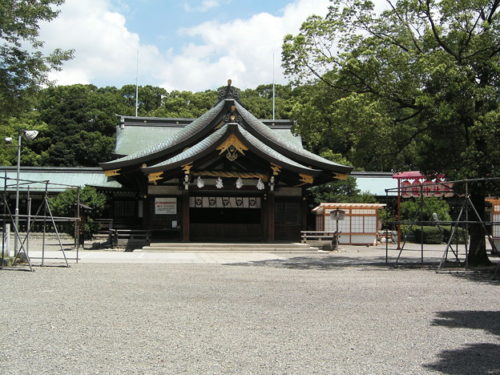 2. 4 Best Spiritual Sites at Atsuta Shrine
Atsuta Shrine is one of the most prominent shrines of the Tokai Region, and 6.5 to 7 million people visit every year.
There are 28 buildings including the main shrine (Hongu) on its extensive grounds of 190,000 square meters.
As stated above, Atsuta Shrine is a historically important location but its many spiritual sites have also been attracting attention in recent years. Here we'll tell you about the best places to get your spiritual batteries recharged.
2-1. ①Main Shrine (Hongu)
One spot you don't want to miss is the main shrine (Hongu). Goshin-sama is enshrined here, as well as the Kusanagi.
There's also an area behind the main shrine called the Kokoro no Komichi, which you can enter from the narrow paths beyond the Kaguraden on each side of the main building.
It was opened to the public in December 2012. Hours are limited to 9:00 AM – 4:00 PM.
2-2. ②Shimizusha
The Shimizusha enshrines Mitsuha-no-menokami, the deity of water. It's located beyond the Doyouden to the east of the main shrine and to the north of Mita Shrine.
A water spring called O-Shimizu-Sama is found northerly from here, and in the center of it is a rock that's said to be the pagoda of Yang Guifei (Yokihi no Sekitou).
Word is that you'll get beautiful skin if you wash it in the spring water.
2-3. ③Kusunomimaesha
Pass through the main entrance and walk straight along the path to find the Kusunomimaesha in the woods on your right. The shrine has a sacred tree called the kusunoki (camphor tree), hence the name "Kusunomimaesha." It enshrines Izanami no Mikoto and Izanagi no Mikoto.
Also referred to as "Koyasu no Kami (God of Koyasu)" or "Okusu-sama" among the locals, it's celebrated as the god of easy delivery, good relationships, and curing illness.
At the Hongu Juyojo you'll find small torii gates that you can offer to Kusunomimaesha. It's said that if you write your name and zodiac sign on the torii and offer it to the shrine, your wish will come true. You'll see many small torii gates lined up behind the offering box for this reason.
2-4. ④Okusu
Among the countless trees at Atsuta Shrine, there are seven camphor trees (kusunoki) that stand out. These are called "Okusu (large kusunoki)."
Legend has it that the trees were planted by Kukai (Kobo-Daishi) and are thought to be more than a thousand years old.
Three of the seven are especially giant, and are known as "goshinboku (sacred trees)." They're said to release very powerful energy.
One theory holds that you'll receive power by just standing in front of the trees and spreading your arms out wide.
Some say that carrying around a photo of them will also give one strength, while others have the trees as the wallpaper on their phone.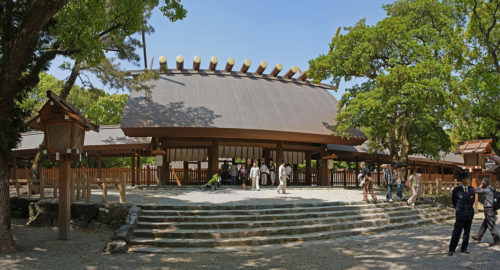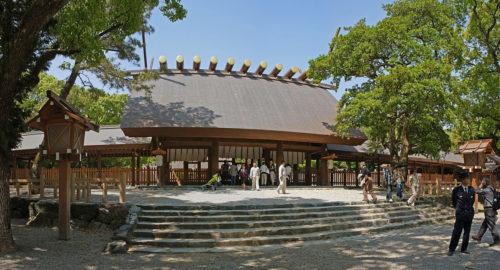 3. How to Get There
Atsuta Shrine is easily accessible both by train and by car. See below for more information on how to get there from Tokyo / Osaka.
◆Visiting by Train

From Tokyo

・JR Tokaido Shinkansen from Tokyo to Nagoya (about 100 minutes on the Nozomi)

・Transfer to the Meitetsu Nagoya Main Line, alight at Jingu-mae (about 5-7 minutes)

・Walk 3 minutes to arrive at Atsuta Shrine

From Osaka

・JR Tokaido Shinkansen from Osaka to Nagoya (about 50 minutes on the Nozomi)

・Transfer to the Meitetsu Nagoya Main Line, alight at Jingu-mae (about 5-7 minutes)

・Walk 3 minutes to arrive at Atsuta Shrine
◆Visiting by Car

From Tokyo

・Exit the Tomei Expressway at Toyota JCT ⇒ Isewangan Expressway ⇒ Exit at Nagoya ⇒ Nagoya Expressway (about 20 km) ⇒ Exit at Yobitsugi

・Turn left at Chikatetsu Horita on Horitatori onto Route 1 ⇒ Turn right at Temma-cho intersection ⇒ Go straight to arrive at Higashimon Parking Lot

From Osaka

・Exit the Meishin Expressway at Komaki ⇒ Nagoya Expressway (about 20 km) ⇒ Exit at Horita

・Turn right at Chikatetsu Horita on Horitatori onto Route 1 ⇒ Turn right at Temma-cho intersection ⇒ Go straight to arrive at Higashimon Parking Lot
4. Local Cuisine in the Area
You don't want to miss out on a chance to fill your stomach with delicious Nagoya cuisine.
That's why we've listed here some of the most popular local cuisine that you can find near Atsuta Shrine.
4-1. Kishimen
The only food joint within the grounds of Atsuta Shrine is the Tokai Region's favorite chain restaurant: Miya Kishimen.
Kishimen is a type of udon that's popular in Nagoya, unique for its flat noodles and well-flavored soup.
At Miya Kishimen, you can choose from the rich soy sauce based "Akatsuyu" or the light white soy sauce based "Shirotsuyu."
Toppings like shiitake mushroom, spinach, kamaboko, and fried tofu are included, and you can also add extras like shrimp tempura and kakiage.
Being within the grounds of the shrine, customers are treated to a serene atmosphere to enjoy the exquisite noodles in. It's the perfect place to recharge in between sightseeing.
4-2. Hitsumabushi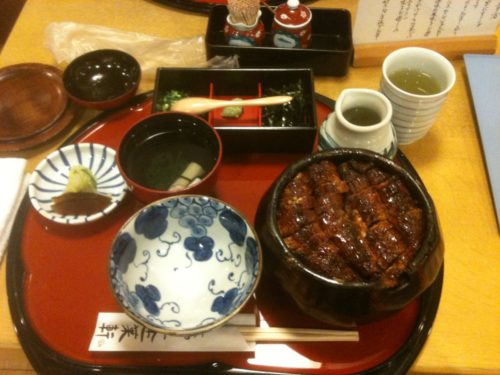 Hitsumabushi is a rice dish topped with cut unagi eel, placed in a round container called an ohitsu. Along with kishimen, it's a must-try Nagoya delicacy.
The dish can be eaten in various ways, such as on rice with your choice of condiments or with the special broth as ochazuke.
Right by Atsuta Shrine is a renowned unagi eel restaurant that was established 140 years ago. Their secret sauce has been used since the beginning and is the key ingredient to the savory grilled unagi.
It's popular among tourists seeking Nagoya's famed hitsumabushi, so there may be a queue to get in. We recommend you book a table beforehand.
Make sure you try some of the local cuisine when making a trip to Atsuta Shrine!
In Conclusion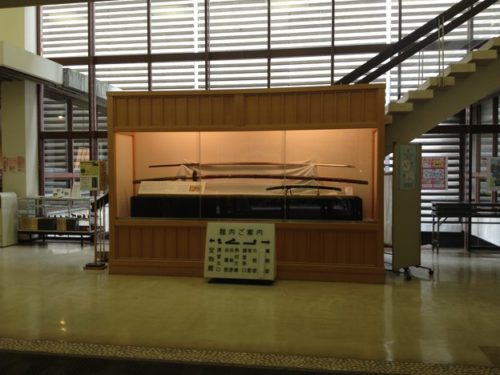 Atsuta Shrine is one of Aichi prefecture's most popular tourist attractions. It's also the Tokai Region's greatest spiritual site, right along with Ise Shrine. To the locals, it's the go-to spot for hatsumode (first shrine visit) and the grounds will become crowded with visitors celebrating the start of the new year.
If it's your first time here, you'll want to know how to navigate yourself around the shrine's extensive grounds. We hope our list of recommendations will make your trip to Atsuta Shrine an amazing one.